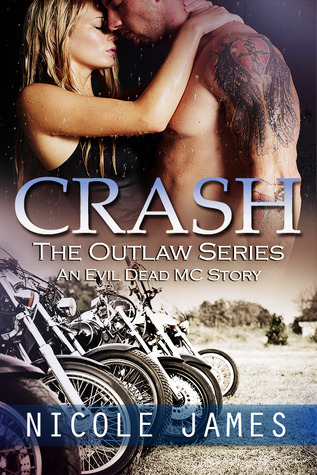 Blurb:
When outlaw biker Tyler "Crash" Shaw volunteers his services to his club brother, Cole Austin, VP of the Evil Dead MC, he suddenly finds himself a rich girl's bodyguard and babysitter. Well, it's a bitch of a job, but maybe he can have a little fun with it. He thinks he'll get a kick out of teaching the pampered stuck-up girl a lesson or two on how the other half lives. She can cook and clean for him in exchange for his help. No free ride for her. He intends to teach her that money can't buy her way through life.
The world saw a classy pulled-together wealthy lady. All he saw was a spoiled little rich girl. A troublemaker, that's all she was to him. Until she revealed the shattered girl inside that tried so hard to hide her weaknesses and fears with a façade of arrogance, attitude, and sass.
He'd tear down those walls she tried so hard to build, if only she'd let him.
Could the love of a man so wrong for her be the only one to save her?
And in his darkest hour, would her love be enough to save him?
From the MC's California charter in San Jose, to the casinos and brothels of Reno, to brother charters in the Deep South, this story will take you on a ride of highs and lows that lead ultimately to redemption.
Review:
Sometimes there are books or series that you can't stop thinking about. Months or years can go by, but that one scene will pop into your head and you will want to re-read that scene. The book might not be perfect, but there are moments of greatness that capture your imagination and won't let go. The Outlaw series by Nicole James are one of those types of books.
I first read the first book in the series  "Outlaw" over a year ago, and there are scenes that I revisit from time to time because I love them so much. Cole and Angel were the introduction into the MC club out of San Jose, California and Shannon and Crash story takes us deeper into this world of sexy motorcycle outlaws. Shannon and Crash, what can I say about them other than I loved them. They are from two different worlds but they just fit. The way Crash takes care of Shannon made me swoon. The way their love for each other grew didn't feel forced. It just grew organically.
"I'll be the first to admit it wasn't love at first sight. Lust? Hell, yeah. No doubt about it, but not love. Maybe not even like, but she changed all that."
My only issue with the book was the transition between scenes. There were times where it felt that a scene was inserted just for introducing a character for the next book. Although the scene made sense, its place in the book did not, it just felt forced at times. There were moments with the secondary characters whose history just came out of left field. It was very much; here is a character, here is their back story told within a chapter. However, you don't understand why a whole chapter is being devoted for that character because you haven't spent enough time with them to care about their history. In addition, the way that Shannon dealt with some of the situations she was placed in or the emotional results of the actions she took felt a little rushed. I would have loved some more emotional and mental turmoil on Shannon's part, because what she went through I can't imagine she would have gotten over it in a week which is what the story made it sound like.
Even though there were these slight flaws, I still loved this book. Nicole James just knows how to write couples. It has been a few days since I finished reading and I am still thinking about Crash and Shannon. I keep imagining what their children would be like and what other crazy situations they would find themselves in and how the MC would all rally around to help them out. The story might have ended,  but it still continues in my mind and in the end that is what a great story is all about.
amazon: http://amzn.com/B00J0KYFSO