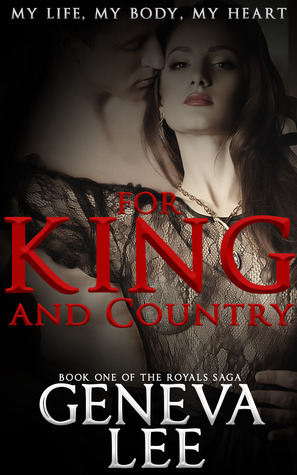 Blurb:
When he kissed me, I was shocked. He was a stranger and still so familiar. It wasn't until I woke up to my picture splashed on the cover of tabloids that I realized I knew who he was.
Prince Alexander of Cambridge.
Royal bad boy.
Exiled heir to the throne.
He isn't Prince Charming. He's controlling. He's demanding. He's dangerous. And I can't say no to him.
We both have secrets—secrets that could tear us apart or drive us closer together—and as the paparazzi exposes each one, I have to decide just how far I'm willing to go for King and Country.
For readers 18 and up due to mature, erotic scenarios.
Review:
A modern-day fairytale; what is there not to love? If you love monarch drama, Prince William and Kate's  romance tossed in with a bunch of sexy, then this book is for you. "For King and Country" is a tale about a prince with a dark side and an "American" girl who catches his eye. Geneva Lee's debut novel is a sexy erotica that will leave you craving more of the two main characters. What I love about this book what there was a lot of back story and character development. Sometimes you read an erotic tale and it is sex on every page. While that is nice, sometimes you need and want to get to know your characters. Geneva Lee really finds the right balance between the two.
Alexander is one sexy prince with a dark, brooding side. He is all demanding alpha male, and he takes what he wants in the bedroom.  Chained to life without escape, and a past laced with tragedy, he finds his release in Clara. Each encounter will leave you wanting more, however there are many obstacles in their way. Clara is starting to find her way in the world, when she is pulled into Alexander's sphere. She is stronger than she thinks, and is a very relatable character. There is electricity in the air the moment they meet. Their chemistry is off the charts.  However, the question about how can they be together when everything and everyone around them is trying to tear them apart is certainly raised.
"For King and Country" is one sexy soap opera (and I mean that with praise), and I love every moment of it. I will eagerly be awaiting the next installment in this series, because I'm dying to find out what happens next. I know I have found a new author to follow in Geneva Lee.
Amazon: http://amzn.com/B00K5CASSM
Website: http://genevalee.com
Facebook: https://www.facebook.com/genevaleebooks
Goodreads: https://www.goodreads.com/book/show/21462695-for-king-and-country?ac=1
Twitter: https://twitter.com/GenevaLeeAuthor