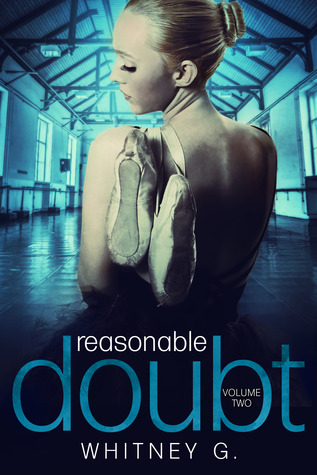 Blurb:
She lied to me…
She betrayed the one rule that I'm most adamant about: Honesty. Complete and utter fucking honesty .
I really wish she was someone else—someone who didn't have the ability to make me feel, someone I could easily discard like the hundreds of women before her.
She isn't.
I'm drawn to her like I've never been drawn to a woman before—completely captivated by the very sight of her. But unfortunately, with my past slowly re-surfacing for all of the world to see, I'll have to find a way to let her go.
She can never be mine.
Review:
Woohoo, a sequel that met my expectations. Sometimes when you finish a book and it leaves you with a cliffhanger the sequel just does not live up to your hopes. This is not the case for Reasonable Doubt #2. Whitney Garcia William has done a seamless job of taking off right were the last book left off and not missing a beat with the story. It was a smooth transition from one story to the next and I loved every moment of reading it.
In Reasonable Doubt #2 we learn more about Andrew's back story. You are left feeling intrigued, and will be clamoring for the third book in the series to come out. There is no reason to talk about the sex in this book because it is just as steamy as the last. What the dancer in me loved the most about this book was the slight glimpses into the dancer world. Lets face it, dancers can get a little crazy, rivalries are formed and that can make for a great story line. I definitely saw glimpses of this in Reasonable Doubt #2 and I am hoping to see more in the third book. I really am enjoying Aubrey's dance background dance story line.
Reading this review, you might be disappointed that I didn't go more in-depth about the story line. However, this is a book you just have to read and experience every single moment. Once you start you will devour it within a few hours because you won't be able to put it down. If you love Reasonable Doubt #1 you will love Reasonable Doubt #2 , it was another great read.
Amazon:  http://amzn.to/Tkk4OR